This month I am the featured designer at Elemental Scraps. This means I get to have a store wide sale and create a challenge for all of you to take part in, with a chance of winning a prize!!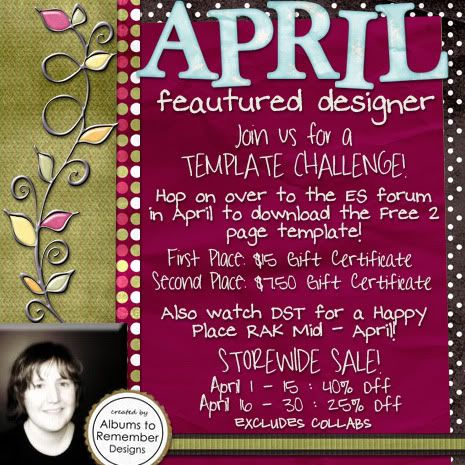 The Challenge??
I LOVE two page layouts so for this challenge you will need to create a two page layout with the
template provided below
. You can grab it in the store and get it free by using coupon code is AprilFD. Just place it in your basket and then type in coupon code AprilFD in the coupon code (not the gift certificate code) box.
The Prizes??
Not only do you get a free double page template, there's a chance to win even more!
One lucky 1st place winner will receive a $15 gift certificate and a 2nd place winner will have $10.00 to spend!
The Rules??
*Use at least 75%
Albums to Remember
products from Elemental Scraps in your LO(s). (Currently most of it is at 40% off until April 15).
* You will receive 2 challenge points for playing. To read more about our new challenge format click
HERE
! (note: you won't recieve a bonus point for using ES products in this challenge since it is already a requirement.)
*Post your layout in the
Featured Designer Challenge Gallery
and link us up here. (Don't forget to post a link in the A
pril Challenge Links
thread so that you will get your points!)
* Deadline April 27